What's 2021 bringing to the apartment décor world this year? Tons of pastels, mid-modern furniture and using old pieces and making them new again!
With a variety of new trends, you can make your space feel brand new with a few unique touches. Add a new rug, mix some textures, or change a few colors. Here are a few tips to improve your space just in time for spring.
1. Choose an apartment with a floor plan that is perfect for you. Carefully choose a floor plan that fits you and how you'll use your space. If you love entertaining, look for apartment homes that have a larger living room. And if your happy space is your bedroom, search for an apartment that has a spacious bedroom that you can call your sanctuary. There are so many bedroom layouts – including master en-suites and large closets – that make this pace really feel like a spa.


2. Arrange furniture intuitively.


Wisely plan every aspect of your apartment and each room in it by, simply arranging your furniture in a way that flows naturally and fits the way you use the space. Make sure there are easy paths from one area of your home to the next, unobstructed by awkwardly placed or oversized furnishings. Your furniture should comfortably fit your space, and you should consider choosing the main piece to occupy the "command position," or the area that seems most central to the room. In areas where you gather as a family or entertain guests, arrange seating in a circular pattern to promote a free flow of conversation.



3. Keep it clean
It's easy to see that cleanliness and orderliness promote positive vibes. When our living and working spaces are clean and organized, we feel more in control and are better able to focus on what we choose—whether that's reading a good book, enjoying the company of family and friends, cooking a favorite meal, or finishing up that report for your boss.
4. Use color

Different types of colors are thought to promote different moods and qualities.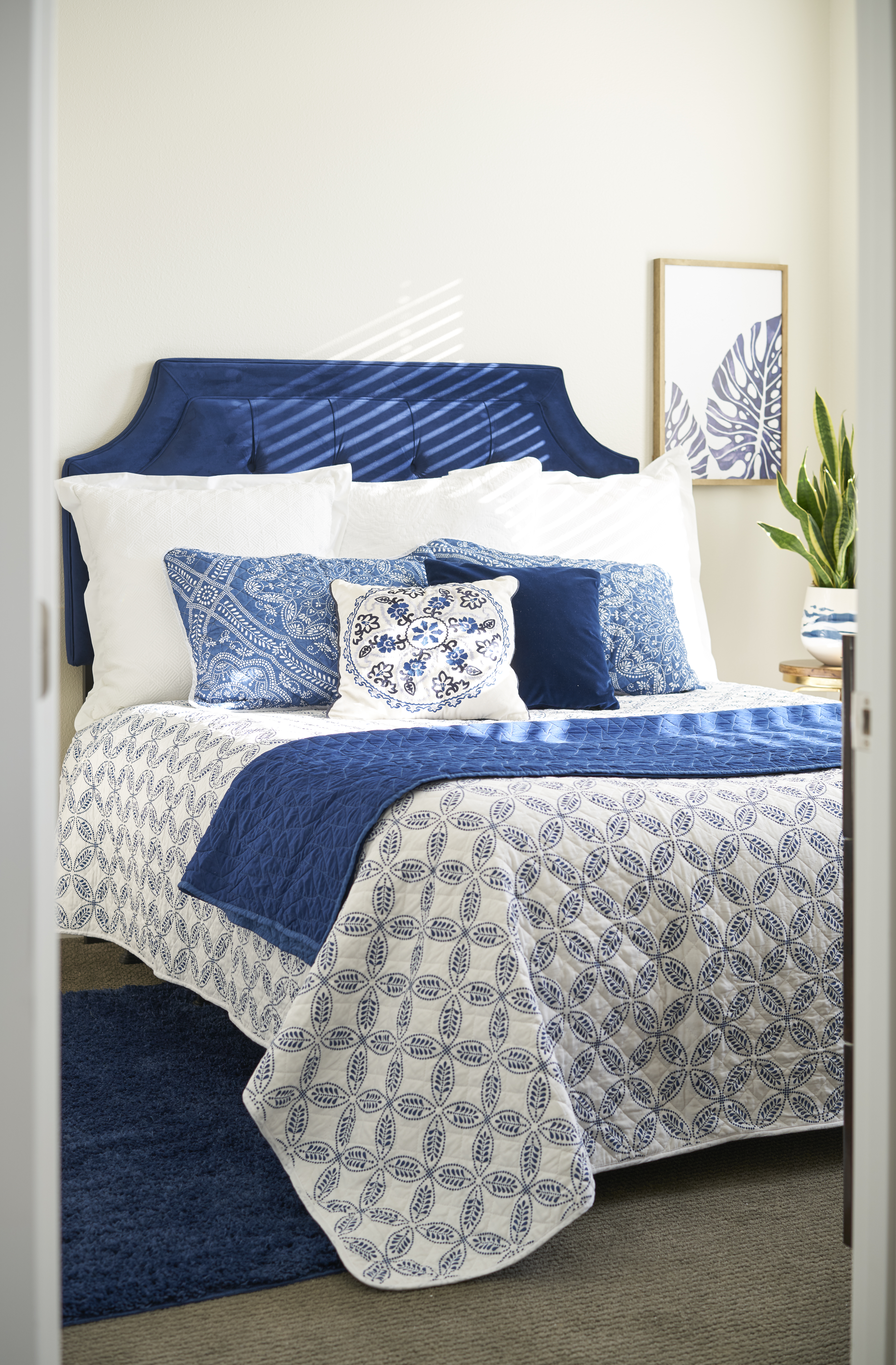 Bright and pastel colors encourage health and vitality. For this reason, they are recommended for use in the kitchen. Incorporate colorful accents with towels, canisters, fruit bowls, wall art, or dishware.
Blues and greens promote relaxation and remind us of water, making them ideal choices for the bedroom and bath. Use rugs, towels, bedding, furnishings, and decorative bathroom accessories to add these calming hues to your apartment.
White is a peaceful, soothing color to use throughout your home if you balance it with other colors. In excess, white can feel sterile and lifeless.


5. Add plants
Plants purify the air and add a fresh feeling to your home. They soften the hard lines and angles of modern life, bringing in the soft curves of nature.


Avoid spiky plants like cacti, which add a sharp, harsh energy to the environment. Palms, ferns, English ivy, and rubber plants are among those recommended for purification.
The jade plant, known as a "money tree," is believed to bring good luck and prosperity. Place one by your entrance to welcome good fortune into your home.
The snake plant is the perfect piece, it's colorful and easy to maintain. Especially if you don't have a green thumb.
Bamboo contributes a peaceful and wise energy, encouraging openness and flexibility.
Use textural touches and pattern play to instantly elevate your houseplants
Or go to your local Goodwill and find old vases to repaint. This is an easy way to reuse something and make it new again!
6. Pay attention to lighting


Natural light is ideal, so try to choose an apartment that lets plenty of light in. If sunlight becomes too intense at certain times of day, soften it with translucent curtains rather than blocking it completely with opaque drapes or blinds. When using artificial lighting, choose bulbs that produce a warm, yellow light rather than a cold, white or bluish light.


And here are a few free tips to keep in mind this spring season:
Decorate with free foliage from your own backyard – a little bit of greenery can go a long way, especially in a small place. Before you splurge on getting new plants from a store, look outside and see what you can find. And you can display in a small vase you already own! Even branches and twigs can be a simple addition to the right space.
Move the furniture towards the center of the room – this can create a new moment in the room.
Mix textures and shapes, a variety of both create great natural harmony.
Utilize all the white in your apartment home to make your space look clean and crisp.
Are you hunting for your next apartment? Hubbell Realty offers a wide selection of multifamily housing options in downtown Des Moines, West Des Moines, Johnston, Waukee, Clive, and elsewhere across the metro. Click here to view our properties, or click the image below for help finding the right apartment.