Hubbell Realty Company has announced several projects in Waukee that are planned to start development in late 2022 or 2023. The seven upcoming projects in this metro suburb include rental and for-sale homes, with options suited to anyone at any stage of life. Check out each community below:
Rialto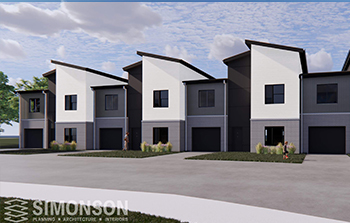 This single-family rental community will have 126 ranch-and-two-story homes, with Hubbell's staple urban exteriors much like what you may see in downtown Des Moines. Rialto will have Waukee's first residential rooftop patios, as well as attached garages in each home. The community amenities will include a pool, clubhouse, and plenty of green space connecting to walking trails to Triumph Park, Kinship Brewing, and the Raccoon River Bike Trails. The community will require a $35-37 million investment.
This community plays off of the successful Centennial Crossing single-family rental community, located near Waukee's Centennial Park and original Waukee High School.
ConvergeNW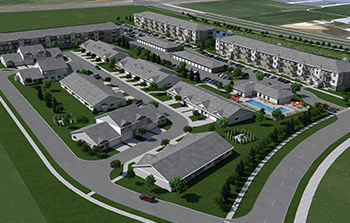 With the grading of this community in its beginning stages, ConvergeNW is on its way to becoming Waukee's newest apartment community. There will be an estimated 459 units that will overlook Waukee Northwest's High School campus and football field. Coming in with a $90 million price point, these apartments will also be within walking distance of Triumph Park, surrounding schools, and bike trails.
Edencrest at Kettlestone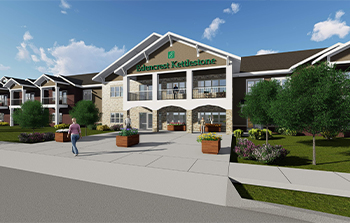 Like Hubbell's other successful Edencrest communities located throughout Central Iowa, Edencrest at Kettlestone will be a senior and assisted living community. This $22 million community will have 80 homes to meet the growing needs of the aging population around this area. This community will be in the KeeTown Loop district close to walking trails, future boutiques and restaurants as well as music venues and surrounding Waukee housing communities.
This is the eighth Edencrest community in the metro area and it will begin grading as soon as September 2022.
"This is a very exciting step in the Edencrest development as we expand into one of the fastest growing metros in the entire state. The success of our past eight communities demonstrates the ongoing need to take care of this generation," said Kris Saddoris, Vice President of Development with Hubbell Realty Company. "When we look at some of the fastest growing communities, Waukee is a natural next choice, especially in such a great location like KeeTown Loop District and Grand Prairie Parkway where not only will we see commercial, retail and office, but also additional multi-generational housing spur over the next 5-10 years."
Waukee Crossing
The third Hubbell Homes community in Waukee will be the upcoming Waukee Crossing neighborhood. Paving begins in September 2022 on this residential community, and it will feature a mix of home types from two stories to ranch styles. It will contain 67 Hubbell Homes as well as third-party single-family lots.
Alder Point
Joining Waukee Crossing and other Hubbell Homes communities in Waukee is Alder Point. This 39-lot community should be ready for permitting by the end of 2022.
Halston Square at Kettlestone
Halston Square at Kettlestone is a 55+ rental apartment community coming to Waukee. While the details of the start date are in the works, this community-type aims to meet a missing need in the area: age-restricted rental housing. There will be an estimated 225 units in this $65 million community that is in its exploration phase.
Welkin at Kettlestone
Also within the popular Kettlestone neighborhood, with 50 for-sale condos, is Welkin at Kettlestone. This project, which is slated to start in 2023, was inspired by the successful Edison community in downtown Des Moines. These 2-and-3-bedroom condos will be steps away from live music at Live Nation and other restaurants, shops and entertainment options within the KeeTown Loop.
This marks a massive expansion by Hubbell into Waukee. Stay tuned for updates about the specific projects and the progress of the Waukee developments as a whole.