Searching for a home in the Des Moines metro within a specific budget?
Hubbell Homes has available homes all around the Des Moines metro ranging from $250,000 in Carlisle to nearly $800,000 in the heart of downtown through their Discovery Collection. The Hubbell Homes' Discovery Collection is based upon value – keeping the homebuyer's budget top of mind. This collection gives the buyer the most bang for their buck in the Des Moines Metro. These are luxurious, entry level homes for homebuyers who are ready to move into a beautiful, new home now.
The Discovery Collection offers both single family homes and townhomes, located in the Des Moines Metro. Many of these new homes come with personalization options, from upgraded countertops, to choosing shower doors, and more with the help of our Design Studio expert. To make it even easier, we can present finish options that won't break the bank and will elevate and customize the look and feel of your home. These homes are generally ranch or two-story homes, with 3 bedrooms, 2-3 bathrooms, and 1,300-1,500 square feet, perfect homes to host or grow into.
Locations
There are currently four locations in the Des Moines Metro with Discovery homes being built by Hubbell Homes. In Carlisle, the Danamere Farms neighborhood has homes in the collection starting in the mid $200,000 range. The neighborhood is just south of Des Moines with a small-town feel, access to bike trails, and beautiful scenery. Tuscany in Altoona has homes available starting in the low $300,000 range. A conservation community, Tuscany has access to Altoona's parks and recreation system and a unique connection to nature as well as a short drive to the Outlet Mall of Des Moines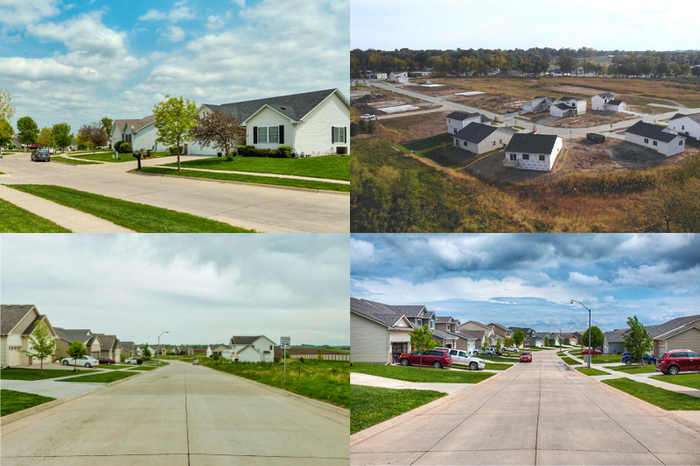 Des Moines boasts two Hubbell Homes neighborhoods with homes in the Discovery Collection: Grover Woods and Riverwoods. Grover Woods is in the heart of Des Moines, close to the restaurants, shops, and everything else in the city – just a short 5 minutes' drive east on Hubbell Avenue. Grover Woods is a young neighborhood with homes starting in the mid $200,000 range. Riverwoods is in Southeast Des Moines minutes from downtown but most importantly it connects directly to the beautiful Easter Lake and Easter Lake Park with a 6-mile bike trail loop, fishing, beach and a soon-to-come nature center. Riverwoods has new homes coming soon in the Discovery Collection.
The Discovery Collection provides opportunities for homeowners to buy beautiful new Hubbell Homes at an affordable price. This collection is growing quickly in popularity, so don't wait to come tour one – or two – today! Check out the discovery homes mentioned or all of the Hubbell Homes at hubbellhomes.com.